It's very overwhelming. My blog is 1 year. I have 304 followers, I had not in my wildest dreams imagined, thought that it would go so well, and that I would have so many mini friends all over the world.
I am grateful and often think of you, when things happen in the world, my thoughts turn to you I know in that area.
I look forward to the next year with you. Big hugs and kisses from me to you
The winner of my Giveaway is
Congratulations
Rosethe`
, write an email to me at wyrnac@hotmail.com with your address.
I will send your the gift on Monday. 24 June.
Have I not heard from you before 24 June, I will draw a new one.
I am so lucky that I already have sold 2 of my minis from Etsy. It is quite overwhelming and I hope so much that the new owners will be satisfied with their purchase.
My online shop
Finally, I finished my online shop. It has given great challenges. I have such great difficulty, that I final had to drop, the website provider I had chosen. Then I chose to do it like a blog. However, it also had its challenges. I have to use "menu buttons" on the layout, I could not figure it out, here I got help from a lovely and sweet lady,
Birgit
, Lovely with so sweet and helpful blog friends.
Birgit wrote an email to me with clear instructions on what I should do. She had even read the instruction in Danish so I got the Danish words. Which language endowment Birgit is.
Thank you
Birgit
, without you I was still passed around like a lion in a cage.
My reason for making a online shop;
-I need to have a direction and purpose in what I do, I'm very results-oriented. I opened this shop on Sunday and I have already bin very busy. It is so nice a feeling.
- I want to be known for providing a good service.
-I would like to be known for selling at competitive prices.
I can only that, because my stock is very small, I order items home about 2 times a month, from my wholesaler and primary products my customers already have ordered. You must provide your purchase, if you buy from me.
I have a lot of plans and ideas to develop my online shop. among others, to make references to other people's blog that sells minis. More on that after the summer.
I invite you to visit my new blog and have you any feedback I'll gladly hear it.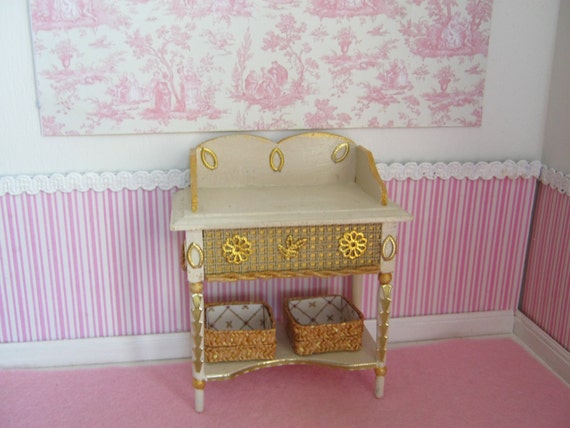 My newest creation.
I'm taking a little trip to Sweden tomorrow morning, so I can first read your blog again on Monday morning. Have a nice weekend.
Welcome to all my new followers
Thanks for all your comments, I love to read them
Come back soon
Hugs
Wyrna